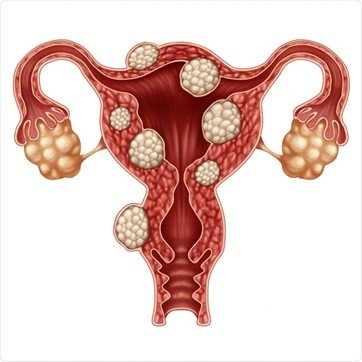 Dr. Shweta Shah is one of the best gynecologist doctor in Mumbai for safe and comprehensive treatment of uterine fibroids.
Uterine fibroids are noncancerous uterine growths that commonly arise during pregnancy. Uterine fibroids, also known as leiomyomas or myomas, are not linked to an elevated risk of uterine cancer and seldom turn cancerous.
Fibroids vary greatly in size, from undetectable seedlings to large masses that deform and expand the uterus. A person can have one fibroid or a group of them. Multiple fibroids can cause the uterus to enlarge to the point where it reaches the rib cage, causing weight gain.
Uterine fibroids affect many women at some point in their life. During a pelvic exam or a pregnancy ultrasound, your doctor may detect fibroids by chance. As uterine fibroids rarely cause symptoms, you may be unaware that you have them.
Symptoms of uterine fibroids
Generally, most women with fibroids have no symptoms at all. The size, location, and the number of fibroids can affect symptoms in persons who have them.
The following are some of the symptoms of uterine fibroids:
Heavy menstrual bleeding

Menstrual cycles that continue for more than seven days

Pressure and pain in the pelvic area

Frequent urination

Constipation

Having trouble emptying the bladder

Pain in the legs and back
Treatment
One of the best gynecologist in Mumbai, Dr. Shweta Shah, will consider several factors while discussing fibroid removal surgeries. Not only does the location, size, and the number of fibroids affects the type of surgery performed, but your intentions for future pregnancies can also play a role in deciding on a treatment plan. She is an expert in all types of uterine fibroids surgeries, including myomectomy, hysteroscopy, laparoscopy, hysterectomy, myomectomy via laparoscopy or hysteroscopic approach, and total laparoscopic hysterectomy.