Dr. Shweta Shah is one of the best gynecologist and obstetrician in Malad, Mumbai. She is an excellent and expert doctor in women's health. She is highly experienced in obstetrics and gynecology.
Extremely passionate about women's health, she has treated numerous women patients with infertility, gynecological issues, and menopausal issues with great success. She has also counseled women on how to maintain good health and stay active considering their busy lifestyles.
She is a prolific doctor who can be related to women across all walks of life. Compassionate and warm, Dr. Shweta Shah is a patient-centric doctor who makes extra efforts to resolve her patients' health issues. She can speak and understand English, Hindi, Gujarati, Marathi, and Kannada, and hence most of her patients resonate with her and trust her fully.
Qualification and Specialization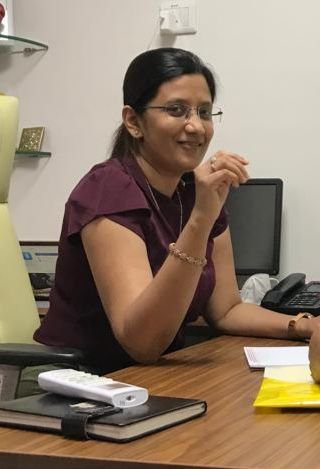 Dr. Shweta Shah has 10 years of experience as an expert in treating infertility, PCOD, high-risk pregnancies, and other complex gynecological issues.
PCOD: Polycystic ovary disease (PCOD) refers to an excess of androgens in the female patient. The female patient complains of acne breakouts, unwanted facial hair, irregular or no menstrual periods leading to grave lifestyle disorders. Dr. Shweta Shah has treated many PCOD patients and counseled them to manage their lifestyle and live a healthier and better life.
IUI Intrauterine insemination (IUI) is a critical procedure performed to treat infertility. It involves placing the washed and concentrated sperm directly in the uterus of the mother during her ovulation period, thereby increasing the chances of fertilization. Dr. Shweta Shah has successfully performed many IUI procedures throughout her medical practice and continues to do so even today.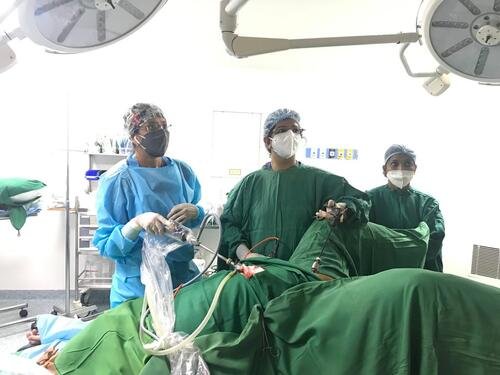 Laparoscopy: Laparoscopy or keyhole surgery is popularly referred to as it is also used to treat certain gynecological issues such as ovarian cystectomy and hysterectomy, an ectopic pregnancy, treatment of endometriosis, and so on. Dr. Shweta Shah has performed laparoscopic surgeries to treat gynecological issues with great success.
Total Laparoscopic Hysterectomy: Total Laparoscopic Hysterectomy refers to the keyhole surgery to remove the uterus. Since this surgery is done through minor incisions, the patient undergoes less operative trauma and recovers faster. Dr. Shweta Shah has performed Total Laparoscopic Hysterectomies for her patients with great success.
Profile of Dr. Shweta Shah: Dr Shweta is full time consultant at Cloud nine hospitals Malad , Mumbai where you can avail her services under her care. She also visits SRV Hospital, Goregaon, and Vardhan Hospitals, Kandivali. She was attached as an assistant professor to K J Somaiya Medical college and superspeciality Hospital, Sion where she mentored undergraduate and postgraduate students.
Professional Experience: Dr. Shweta Shah has worked at many reputed hospitals and maternity nursing homes in Mumbai as a gynaecologist. As a result, she has acquired considerable knowledge and hands-on experience in treating and managing patients with gynecological issues.
Her exhaustive list of experiences includes:
Freelancer laparoscopic surgeon at Sunflower & Shukan IVF Centres, Ahmedabad
Fellow in laparoscopy at Altius hospital, Bangalore
Associate Consultant at Dr. Sakhalkar's Nursing Home, Mumbai
Associate Consultant at Vinayak Maternity & Nursing Home, Mumbai
Specialty Medical Officer at RNCH & Cooper Hospital, Mumbai
Dr. Shweta Shah - Membership
Memberships are one of the modes that help doctors to collaborate and share their experience and knowledge. She is an active member of the following societies:
The Federation of Obstetric and Gynaecological Societies of India (FOGSI)
Mumbai Obstetrics & Gynecological Society (MOGS)
Indian Association of Gynaecological Endoscopists (IAGE)
Indian Society of Assisted Reproduction (ISAR)
In Collaboration with:

1. PCOD Expert at Veera Health
Veera is building a revolutionary ecosystem that helps Indian women to express their health concerns and get customized treatment from the privacy and convenience of a mobile device. Dr. Shweta Shah is a consultant and PCOD expert on Veera health.
2. Expert Speaker at Baby Chakra
Dr. Shweta Shah is an expert speaker on the BabyChakra app, an online parenting platform. On BabyChakra, parents plug into a personalized ecosystem and can connect with other parents, experts and can buy relevant services and products.
3. Expert Reviewer at Mom Junction
MomJunction is an online parenting platform which guides mothers & expectant mothers. Dr. Shweta is an Expert Reviewer on MomJunction and she writes her own articles as well.