Dr. Shweta Shah, one of the best gynecologist doctor in Mumbai, specializes in laparoscopic cystectomy. She has immense experience of over ten years. Being one of the best gynecologist in Mumbai enables her to connect with her patients, providing effective and comprehensive care.
Continue reading to know about laparoscopic cystectomy.
What is Laparoscopic Cystectomy?
It is a procedure that involves removing a cyst from the ovary. Moreover, it is a minimally invasive procedure that requires only a few small incisions in the lower abdomen.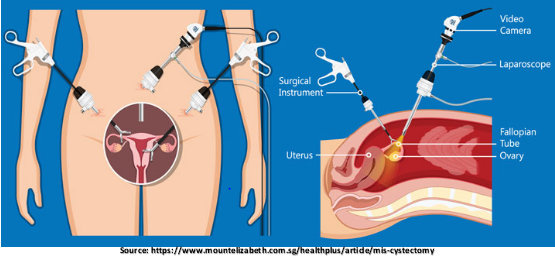 Why is Laparoscopic Cystectomy Performed?
Ovarian cysts affect many women at some point in their life. Cysts usually cause little to no symptoms. On the other hand, surgical removal of cysts may be the best therapeutic option if a cyst is causing pain or discomfort. Pelvic pain, especially during your period or sexual intercourse, is one of the symptoms of an ovarian cyst.
How to Prepare for the Procedure?
The night before your procedure, do not eat or drink anything after midnight.
Because you will be sedated throughout the treatment, you will require transportation to and from your appointment.
Arrive two hours before your surgery is scheduled to begin.
Before the surgery, ask your doctor any questions, especially about stopping or starting any drugs you are taking.
How is Laparoscopic Cystectomy Performed?
You will be put to sleep with an anesthetic before the surgery begins. A laparoscope, which is a narrow tube with a camera on one end, is inserted into the belly through a small incision near your navel. On your stomach, further incisions will be created. Air will be pumped into your abdomen to make greater room between your abdominal wall and internal organs. The cyst will be removed with surgical equipment.